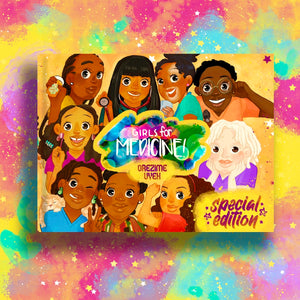 Book Description: "Girls for Medicine" is a children's picture book that encourages kids, especially young black and brown girls, to pursue careers in medicine. Young readers meet the amazing MedGirl Squad- a diverse group of nine girls all interested in various healthcare careers. This book will empower readers to be unique and cultivate the necessary qualities in any future healthcare professional. "Who knows? Healthcare may need a girl like YOU!"
*YOUR BOOK WILL BE SIGNED BY THE AUTHOR!* 
PRODUCT DETAILS:
Hardcover: 44 pages

Dimensions: 11" x 8.5" (216 mm x 280 mm)

Audience: K-5 (Age 4-10)

Publisher: The Little Medics Publishing House, LLC.

ISBN: 978-1-7374784-0-9
Customer Reviews
11/02/2023
Monica W.

United States
I recommend this product
Excellent STEM motivation for girls of color
This was a repurchase...my 3rd time buying. The book is inspirational as it is always good for young kids to see someone like them in these positions.
04/21/2023
Anonymous

United States
I recommend this product
A beautiful book for girls of every shade
Possibly one of the most beautifully written books because the diversity is not in your face… it just is… naturally… in the way God meant us to be. May this book inspire one little girl to see herself in the medical field.
02/20/2023
Samara C.

United States
I recommend this product
Girls for Medicine: Special Edition
This book is amazing and so inspiring for young black girls and boys. I cannot wait to read this book to my future children ❤️
04/21/2022
Dorothy K.

United States
I recommend this product
Much needed representation
This book is phenomenal. My 7yr old daughter loved reading about the different career paths in medicine. The illustrations are beautiful and eye catching. It keeps my daughter engaged. This is such a great way to get real information into children's brain. I appreciated that the author explained all of the titles so that my daughter could understand what each person does. I can't wait for the boy version for my son! He loves this book as well.
01/18/2022
Lori H.

United States
I recommend this product
Support Girls in Medicine
The book is so beautifully illustrated. We loved how each girl grows up to be a healthcare hero just like one that impacted her life. We love this book and hope it reaches lots of little black and brown kids and inspires them to pursue a career in healthcare!